News & Blog
Post date:
Wednesday, October 2, 2013 - 5:05pm
Date: Sunday, NOVEMBER 17th.
Time: 5:30 - 8:00 PM
LOCATION: The Bell Street Chapel
Click Here for Directions and Parking Info
Featuring:
Vendor Fair including:
Equal Exchange, Dell Orto Extra Virgin Olive Oil, Cabot Co-op Cheese, local produce and More!
Member Pie Contest with Local Food Judges:
David Dadekian of East Drink RI
Chef Maria of El Rancho Grande
Kate Jennings of Farmstead
Co-op Updates from the Cooperative Council and Project Manager
Council Elections 
Official Voting Business
Click Here For Full ByLaws proposed changes
and of course
Member Potluck!
Members check your mail box for the official invitation in the coming weeks.  If you have moved in the past year or did not recieve an invitation via post last year please update your mailing address.  The meeitng is open to all.  Please bring a friend.  You can sign up for member ship at  the door. 
Stay tuned for more details!
Post date:
Wednesday, October 2, 2013 - 4:35pm

Join us:
Demo: How to Freeze Local Produce for Summer Freshness All Year Round
Saturday October 19th
@ the Westfield Lofts Community Room
230 Dexter Street, Providence, RI
2 PM
Limited to 25 Participants.
How to Freeze Local Produce for Summer Freshness All Year Round.
Hosted by Chef Lara Mortiz of My Chef Lara 
and Chef Deb Fernandez of Home Star Cuisine, LLC

This Class will teach the proper way to safely freeze food, avoid freezer burn and store food for the long term. According to the USDA freezing fresh foods is the best way to preserve food for long periods of time while retaining nutrients. Freezing food is also an inexpensive way to preserve food that does not require any special equipment. This class is designed to help participants stretch their food dollars and eat healthier food. The class will empower participants to buy food when it is inexpensive and fresh; and have it available in their kitchens' freezers all year long.
Post date:
Wednesday, October 2, 2013 - 4:08pm
Please join us at the following events as we work to get the word out about Urban Greens!
THURSDAY OCTOBER 10th  3:30 PM - 7:00 Armory Farmers Market - Dexter Training Field
SATURDAY OCTOBER 12th  9am - Noon PAWTUXET FARMERS MARKET in Cranston
TUESDAY OCTOBER 15th 3PM - 6PM Kennedy Plaza Farmers Market
FRIDAY OCTOBER 18th 8AM - 3PM Creating Senior-Friendly Communities Confrence, Senior Agenda Coalition of RI, Crowne Plaza, Warwick, RI

SATURDAY OCTOBER 19th   8:30am - Noon Hope Street Farmers Market  - Lippit park
SATURDAY OCTOBER 19th   10:00 AM - 2:00 PM Fiddle Heads Co-op, CT
WEDNESDAY OCTOBER 23th 3PM -6PM Hope Street Farmers Market - Lippit park
THURSDAY OCTOBER 24th  12:00 - 2:00 Food Day Celebration Farmers Market, UNFI Headquarters, Providence, RI 
THURSDAY OCTOBER 24th  3:30 PM - 7:00 Armory Farmers Market - Dexter Training Field
Post date:
Wednesday, October 2, 2013 - 3:53pm
Local Professional Chefs Create recipes tackling some of the more obscure produce you might find in your CSA.
No matter your devotion to eating local and supporting Rhode Island's smaller farmers, if you don't know how to use a veggie it is doomed for the compost. To help with this all too common problem, we have asked some local chefs to create recipes that tackle your CSA mysteries. Our CSA Sleuths are fabulous personal chefs and Urban Greens Members:
Home Star Cuisine--Chef Deb Fernandez
This month's assignment:
CELERIAC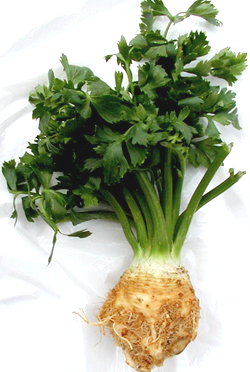 This month's CSA mystery ingredient is currently in my top three favorite vegetables.  I've made it twice this week already.  It is a bit of an ugly duckling, but you can turn it into a sexy and elegant swan with a little time and very little effort.  Really, the hardest thing about dealing with this delicious root vegetable is peeling it.  For that I suggest a good old fashioned paring knife.  You can use a vegetable peeler, but there will be places on this knobby root that it won't reach and you're going to need a paring knife anyway so you might as well start with it too.  And make sure you get into the nooks and crannies that may contain soil.  It doesn't do much for your dish if it has some earth mixed in.
Celeriac is the root of a type of celery specially cultivated for what's under the ground, not above it.  It is a bit intimidating-looking, all brown and leathery looking skin, knobs, root-y bits and fibers.  Definitely not someone you'd ask to the prom.  It's there in my picture with the other ingredients of the soup.  Mmhmm, that one, trying to hide in the back muttering something about breaking the camera lens.  (And no, I don't always anthropomorphize my food, but I do talk to it and try to listen when it talks to me!)  But it's beauty is of the inner variety.  It's flesh tastes like mild celery and it's texture is distinctly different from celery stalks.  It can be eaten raw and lends itself to autumnal and winter slaws, it can be roasted along with other root vegetables, but I think it is especially great in soup.  This is one of many pureed soups that I'll be making from now till March.  I hope you enjoy it as much as I do!
Silky, Sexy Celeriac Soup
2 tablespoons olive oil
2 tablespoons butter 
1 small onion, chopped
2 leeks, sliced
2 celery stalks, sliced
2 small russet potatoes, peeled and cut into 1-inch cubes
1 ½ lb. Celeriac root, peeled and cut into 1-inch cubes
6 cups vegetable or chicken stock, or more if you prefer a thinner soup
2 teaspoons Worcestershire sauce
1 cup light cream 
kosher salt
freshly ground pepper 
2 tablespoons chopped chives for garnish
Heat olive oil and butter in a heavy-bottom soup pot over medium heat until butter has foamed.  Add chopped onions and leeks and turn heat to medium-low.  Sprinkle a good pinch of kosher salt over the onions and leeks and stir well.  Put a lid on the pot and sweat the vegetables, stirring occasionally, for about 10 minutes until the onions begin to get translucent.  
Add celery, potatoes, and celeriac and another good pinch of salt, stir, and cover.  Sweat for another 10 minutes, stirring occasionally.
Add  the vegetable stock and a generous grind of pepper.  Turn up the heat and bring to a simmer.  Lower heat to maintain simmer and continue to cook the vegetables until they are very tender, about 20 minutes.
Remove soup from heat and puree in a blender, a food processor, or with a stick blender, taking care to get soup really smooth.  Be careful not to splash yourself with the soup – it's very hot!
Return soup to pot and turn heat to medium-low.  Add Worcestershire sauce and cream and stir to blend.  Taste the soup and add more salt and pepper if necessary.  Heat through and serve garnished with chives.
---Home Star Cuisine--Chef Deb Fernandez
Contact us to nominate a mystery or perplexing veggie in your CSA and we will Ask Chef Lara/Chef Norbert and Chef Deb to create a special recipe just for us.
Post date:
Sunday, September 15, 2013 - 9:46am
SAVE THE DATE
LOCAL GREEN: Meet & Greet
WEDNESDAY September 18th
5- 8 PM
Enjoy locally made food and drink!
Support the local food economy!
 
The concept is simple: Urban Greens Members and fans support a local business at a pre-determined time and date.   UG Members get to meet each other and support the local economy. UG Members flex their collective power by joining fellow members to support the local food economy.  It is a win-win! 

OPEN TO ALL.
Please bring a pal or two!
 
Rules: 
SHOW UP
SPEND SOME MONEY
(on local products)
MEET NEW PEOPLE

RSVP on our Facebook Page

LOCAL GREEN Meet & Greets are adapted from CASH MOBS.

FYI- If you have a store, restaurant or bar that sells local food and/or drinks and you would like to bring LOCAL GREEN to you and/or if you would like to help plan these events please contact us.